MEN'S JACKETS SIZE CHART
| | | | | | | |
| --- | --- | --- | --- | --- | --- | --- |
| Size (Inches) | Body Chest | Jacket Chest | Waist | Sleeves | Shoulders | Length |
| XXS | 36" | 40" | 36" | 24.5" | 17" | 24.5" |
| XS | 38" | 42" | 38" | 25" | 17.5" | 25" |
| S | 40" | 44" | 40" | 25.5" | 18" | 25.5" |
| M | 42" | 46" | 42" | 26" | 18.5" | 26" |
| L | 44" | 48" | 44" | 26.5" | 19" | 26.5" |
| XL | 48" | 52" | 48" | 27.5" | 20" | 27" |
| 2XL | 50" | 54" | 50" | 28" | 20.5" | 27.5" |
| 3XL | 52" | 56" | 52" | 28.5" | 21" | 28" |
WOMEN'S JACKETS SIZE CHART
| | | | | | | |
| --- | --- | --- | --- | --- | --- | --- |
| Size (Inches) | Body Bust | Jacket Bust | Waist | Hips | Sleeves | Shoulders |
| XXS | 30" | 34" | 30" | 32" | 23.5" | 14" |
| XS | 32" | 36" | 32" | 34" | 24" | 15" |
| S | 34" | 38" | 34" | 36" | 24.5" | 15.5" |
| M | 36" | 40" | 36" | 38" | 25" | 16" |
| L | 38" | 42" | 38" | 40" | 25.5" | 16.5" |
| XL | 40" | 44" | 40" | 42" | 26" | 17" |
| 2XL | 42" | 46" | 42" | 44" | 26.5" | 17.5" |
| 3XL | 44" | 48" | 44" | 46" | 27" | 18" |
Size Guide
Since we at UrbanFashionStudio.com sell globally, we cannot have a region specific size chart. We have designed our own size chart after years of experience and that is more towards American sizes however buyers from Europe, Asia and Australia can also buy these jackets according to our mentioned size chart. They may wear a
Large
locally but according to our size chart they could be a
Medium
or an
XL
. The best way to determine this is to compare their body measurements according to our size chart. For example, if your actual chest size is 40 inches then must select a jacket with 44 inches chest size. There must always be a 4 inches difference between the garment and the actual body size since jacket is an outwear and there are clothing that are worn underneath a jacket. So if your chest is 40, please select a jacket with 44 inches chest that is a SMALL according to our size chart. If your actual chest is 42, you must select our Medium sized jacket, if your actual chest is 44 then you must go for our Large size and so on. Only our XL sized jackets have got 52 inches chest so if you have a 46 inches chest then a XL sized jacket may be a loose fit, and in that case you could either opt for a custom size or let us know of your chest size so we could taper the jacket chest for you, this is mostly for slim fit designs. Below is how you would measure yourself for either selecting a best fit or closer fit or for taking measurements for a customized jacket
How to Measure?
Chest/Bust :
Measure all round, the circumference. To achieve the best measurement, please place one end of the measuring tape to the top most part of your chest and then wrap it all over, from underneath the armpits to the back, keeping the measuring tape straight, back to the front.
Shoulders :
This is done by measuring shoulder edge to shoulders edge, preferably measure from behind, keeping both hands straight down to the sides and by keeping measuring tape over the shoulder blades from one tip to another from the top and behind the neck.
Sleeves :
Sleeves are measured from the edge of the shoulders to the mid of palm, it is imperative to measure it below past knuckles and at the mid-palm, this can be achieved by standing straight.
Waist :
Waist is measured by keeping the tape over or slightly below the belly button, around the natural waist line where the belt of the pants is usually fastened, the method is same as measuring the chest one.
Hips :
(This is usually required for women jackets): Hips are measured just like waist and chest, all round and according to the circumference. These are measured by keeping the tip of measuring tape at one side of the hips to the other, wrapping it around the buttocks to the fullest part.
Biceps :
Please measure it by wrapping the measuring tape around the upper arm, this is the widest part of the hand between elbow and the shoulders.
Length :
Length is measured by standing straight and keeping one of the ends of the measuring tape to the base of the collar until the mid of back or more for coat and trench styles (normal jackets usually have length equal to their sleeves).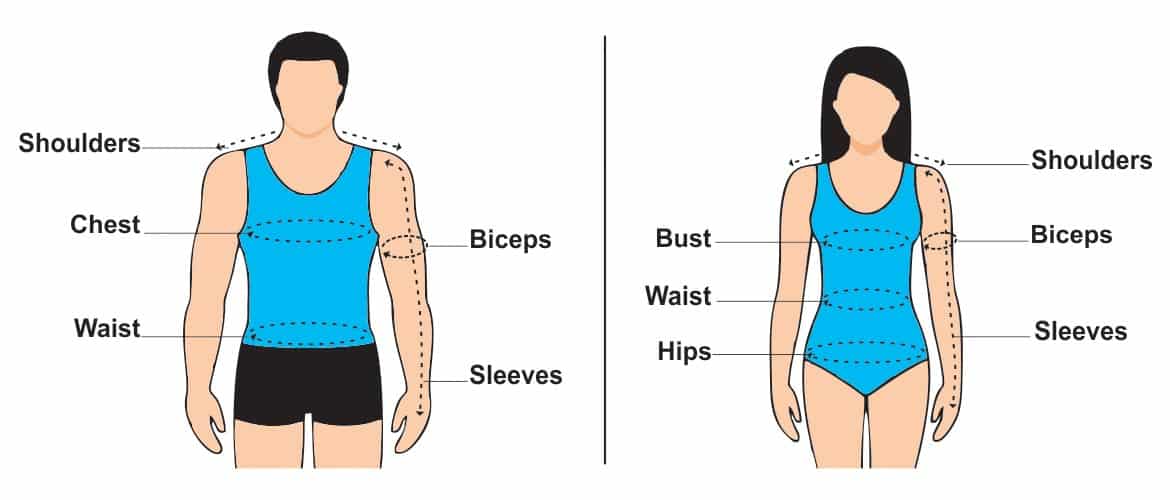 Please email us at
sales@urbanfashionstudio.com
if you are still unsure about how to take your measurements.